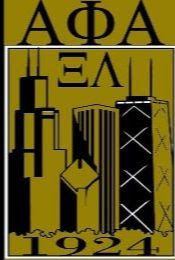 This Week in ΞΛBlood Drive, Adopt-A-Senior, Chapter Retreat Registration, January 2022 IMDP Certification Training Registration, Xi Lambda History Factoid, 4400 Honorary Block Naming Effort, Alpha Awareness Seminar, 2022 Chapter Membership Online Renewal Links, Planet Fitness Offer, and CDC Guidelines for the Fully Vaccinated,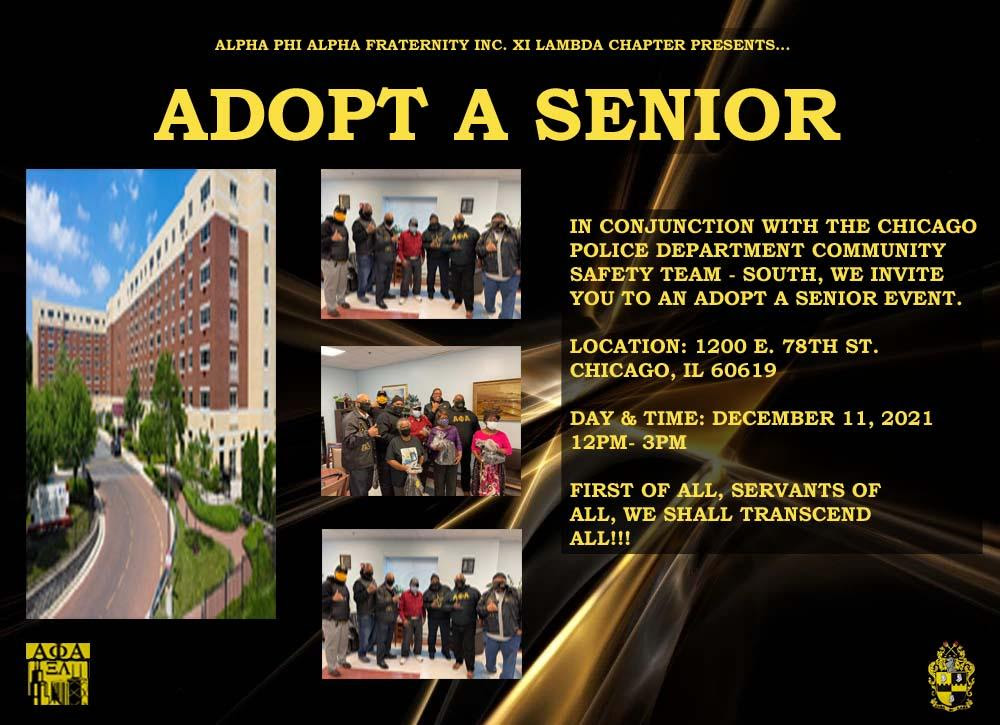 Xi Lambda Chapter Retreat
Sunday, December 19, 2021

"Let's Talk About It"

1:00pm – 5:00pm
Brothers, please reserve time to attend the chapter retreat. 
Your voice is important and we want to hear from you!
The Chapter Retreat will be held at the eXceL Center.
8236 S. Western Ave
Chicago, IL 60620
Get IMDP Certified!
The next IMDP Certification Training Session is scheduled for Saturday, January 8, 2022 from 11am to 1:30pm  If you did not attend the October 16th training session, this is you last opportunity to become IMDP certified prior to the start of the Spring 2022 IMDP application window.
Xi Lambda History Factoid

James Mayo "Ink" Williams
 

Bro. Williams was born in Pine Bluff, Arkansas. When he was 7 years old, his father was killed, and his family moved to Monmouth, Illinois.

He attended Brown University in Providence, Rhode Island, where he became a track and football star. On February 2, 1921, Williams was initiated into Alpha Phi Alpha and became a charger member of Alpha Gamma Chapter.

During his football career, he became one of three black players, along with Paul Robeson, to become the first black players in the National Football League during the NFL's first official year.

He continued to play football until 1926. After graduation from Brown, he moved to Chicago and began to pursue his love of music. He became a talent scout for Paramount Records and produced "race records." He discovered and worked with artists such as Ma Rainey, Papa Charlie Jackson, Blind Lemon Jefferson and the "father of gospel music," Thomas A. Dorsey.

In 1924, Williams became a charter member of Xi Lambda Chapter.

In 1927, he left Paramount and started The Chicago Record Company. After the stock market crash in 1929, his record company folded and he became a football coach at Morehouse College in Atlanta.

In 1934, after this return to Chicago, he was hired by Decca Records and recorded artists such as Mahalia Jackson and Sister Rosetta Thorpe. He later would set up the Chicago Music Publishing Company to handle music he wrote and produced, making him one of the first blacks to own their own music publishing rights.

He left Decca in 1945 and worked as a freelancer for several companies. During this time he worked with Muddy Waters, who was just starting his career. Then in 1952, he opened the Ebony label, which he ran until the early 1970's.

Bro. Williams entered Omega Chapter on January 2, 1980.
4400 King Drive Block Honorary Street Naming


An effort has begun to have an honorary street naming of the 4400 block of King Drive in honor of Alpha Phi Alpha. If you live in, own property or own a business in the 3rd Ward/Bronzeville, we need your support! 
Please contact Bro. Charles Smoot at smoot.[email protected] with your name, email address, and address of where you home/property/business is located so you can be added to the list and be sent information on how you can help with this endeavor!
Xi Lambda Centennial Celebration Survey

Xi Lambda is approaching 100 years of service to Chicago. 100 years of tireless service, 100 years of dedication to underprivileged communities, and 100 years of brotherly love amongst its members. As much as you've given to Xi Lambda Chapter, the Centennial celebration is being designed to give to you by honoring our past, our present and our future. To accomplish this, we'd like to hear from you, Brother. We have one simple question. What does your Centennial celebration look like to you?
2022 Xi Lambda Chapter Dues Online Payments

Xi Lambda Chapter operates on a Fiscal Year of January 1 – December 31
Any person joining Xi Lambda for the first time (since the year 2008) will have to pay the Chapter Housing Assessment. This assessment is a one-time charge.  Currently, the Housing Assessment is $250.00  The entire assessment is tax-deductible.

A Brother will only be considered financial with Xi Lambda Chapter if they have either paid the balance of their dues in full or are on an authorized and active Chapter Payment Plan.  Chapter dues are independent of any fees or assessments charged by the General Office, Midwestern Region, District of Illinois or other Fraternity entity. Currently, Xi Lambda Chapter dues are $350.00 per year ($215.00 of the $350.00 is tax-deductible)

2022 Chapter Dues
To pay your 2022 chapter dues ($350) online via the following link. 
The total amount charged will be $363.16.
One-time Housing Assessment
To pay the one-time housing assessment ($250), please use the following link
The total amount charged will be $259.55
Chapter Dues and One-time Housing Assessment
To pay 2022 chapter dues and the one-time housing assessment, please use the following link
The total amount charged will be $622.20
Chapter Payment Plan
Please contact the Financial Secretary (Craig Turner – [email protected]) to receive a copy of the Payment Plan form.
Please note: The Payment Plan must be completed by October 2022
Brothers, don't forget about the Black Card Membership offer from Planet Fitness!  Please contact Health and Wellness Chair Brother Kevin Baskins if you have any questions.

The 2022 Xi Lambda Wellness Challenge is approaching!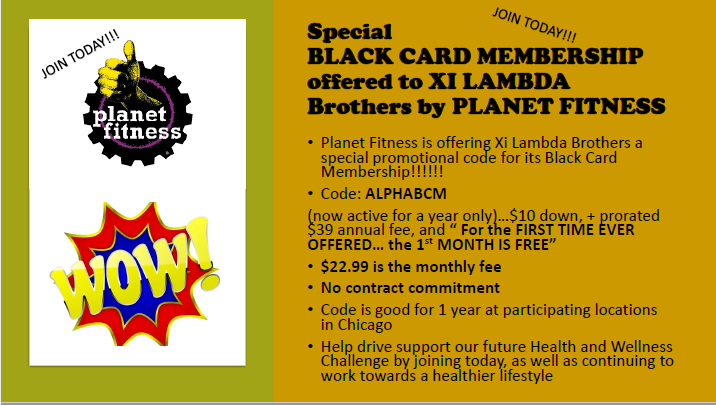 If you supported our chapter as an active member in 2020 and have not received your mask, please contact Bro President Sims or Brother Vice President Ali.