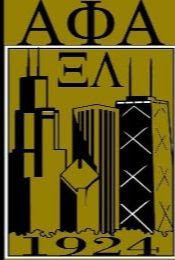 Judge Albert B. George
Albert George was born on October 23, 1873 where he was raised and educated in Washington, D.C.
George attended Northwestern University Law School where he graduated in 1897. He practiced law and was recruited by the Illinois Republican Party to run for the Chicago Municipal Court in 1924. In his election, he won by 78,000 votes. At the time of the election, there were only 60,000 African Americans living in the city of Chicago. At his election, he became the first African American to be elected Judge in the state of Illinois.
Judge George would be among the first initiates of Xi Lambda Chapter of Alpha Phi Alpha in 1925. Bro. George appeared in Chicago media to promote the May 1925 Go To High School, Go To College program at Wendel Phillips High School that was hosted by Xi Lambda, Theta and Alpha Mu Chapters. At that time, it was unusual for mainstream media outlets to advertise programs that targeted African Americans.
He sat on the board of directors at Provident Hospital. Bro. George was a Prince Hall Mason, a member of the Appomattox Club, the National Urban League and also a member of Grace Presbyterian Church, where he served as the Sunday School Superintendent.Xi Lambda Centennial Celebration Survey
Xi Lambda is approaching 100 years of service to Chicago. 100 years of tireless service, 100 years of dedication to underprivileged communities, and 100 years of brotherly love amongst its members. As much as you've given to Xi Lambda Chapter, the Centennial celebration is being designed to give to you by honoring our past, our present and our future. To accomplish this, we'd like to hear from you, Brother. We have one simple question. What does your Centennial celebration look like to you?
Complete the Centennial Survey2022 Xi Lambda Chapter Dues Online Payments
Xi Lambda Chapter operates on a Fiscal Year of January 1 – December 31Any person joining Xi Lambda for the first time (since the year 2008) will have to pay the Chapter Housing Assessment. This assessment is a one-time charge.  Currently, the Housing Assessment is $250.00  The entire assessment is tax-deductible.
A Brother will only be considered financial with Xi Lambda Chapter if they have either paid the balance of their dues in full or are on an authorized and active Chapter Payment Plan.  Chapter dues are independent of any fees or assessments charged by the General Office, Midwestern Region, District of Illinois or other Fraternity entity. Currently, Xi Lambda Chapter dues are $350.00 per year ($215.00 of the $350.00 is tax-deductible)
2022 Chapter DuesTo pay your 2022 chapter dues ($350) online via the following link.
The total amount charged will be $363.16.Pay 2022 Xi Lambda Chapter Dues One-time Housing Assessment
To pay the one-time housing assessment ($250), please use the following link
The total amount charged will be $259.55Pay One-time Housing AssessmentChapter Dues and One-time Housing Assessment
To pay 2022 chapter dues and the one-time housing assessment, please use the following link
The total amount charged will be $622.20Pay Chapter Dues and Housing AssessmentChapter Payment Plan
Please contact the Financial Secretary (Craig Turner – [email protected]) to receive a copy of the Payment Plan form.
Please note: The Payment Plan must be completed by October 2022This Week in Black History (November 14 – November 20)
Roy Campanella and Garrett A. MorganRosa Parks is honored by the Wonder Woman Foundation with the first "Eleanor Roosevelt Woman of Courage Award" – 11/14/1984Washington Society of Colored Dentists is founded in Washington, D.C.  It was the first Black dental organization.  – 11/14/1900Arthur Dorrington becomes the first black American to join a professional hockey league – 11/15/1950Granville T. Woods patents the Synchronous Multiplier Railway Telegraph – 11/15/1887Lydia O. Newman patents the hair brush – 11/15/1898Omega Psi Phi founded on the campus of Howard University – 11/17/1911Roy Campanella named most valuable player of the National Baseball League for the second time. – 11/19/1953Garrett T. Morgan patents the traffic signal – 11/20/1923Howard University founded – 11/20/1865Racial Discrimination is barred in federal housing by President John F. Kennedy – 11/20/1962Brothers, don't forget about the Black Card Membership offer from Planet Fitness!  Please contact Health and Wellness Chair Brother Kevin Baskins if you have any questions.
The 2022 Xi Lambda Wellness Challenge is approaching!
If you supported our chapter as an active member in 2020 and have not received your mask, please contact Bro President Sims or Brother Vice President Ali.
Interim Public Health Recommendations for Fully Vaccinated People